It's an unfortunate fact of life but companies operating goods vehicles are often the target for false and bogus insurance claims. And if you've been the target of a false claim knowing your driver wasn't at fault, you'll know just how frustrating it can be…not to mention the cost to your business.
If only there was a way to protect your vehicles and your drivers against bogus claims. Well now there is!!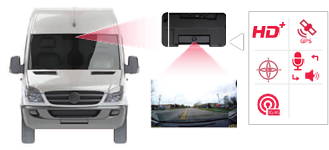 The KP2 video telematics solution from Smart Witness is an all-in-one HD vehicle incident camera that records and retains high quality video footage that can be used as evidence in an insurance claim. With real-time imaging of the driver's view and the option to install additional cameras for a side and rear-view, Smart Witness cameras will collect all the data you need.
The Smart Witness KP2 features…
Real-time HD+ image of driver's view – 170° angle
32GB on board storage plus option to expand to 2TB
Video sent in real-time to the online telematics portal
Instant notification via 3G
Live impact alerting including location, speed & event footage
Benefits for your business…
Protection for your company and your drivers in the case of insurance claims
Protection against fraudulent insurance claims resulting in significant cost savings
Proven reduction in the frequency of accidents
Improved risk management and road safety
Simple, yet powerful, vehicle telematics included……
Our online telematics portal helps deliver driver safety and protection information to you within second of an incident taking place. That may be a road collision, an unsafe speeding event or when someone wants to know you're looking out for them.
GPS vehicle position data from the KP2 camera is sent to the portal every minute so you can accurately track vehicles and replay the route via the simple-to-use Dashboard.
Real-Time video evidence
Incident notifications are delivered in real- time allowing
you to review actual video footage within seconds and, where needed, or remotely download more complex evidence to help support a claim. All this gives you instant control of your fleet.
Key features…
See where your vehicles are, and where they have been
Instant access to video
Driver behaviour analysis – essential for awareness and training
Improve risk management and road safety
Protect your insurance premium
Unlike many insurance companies that cover only the vehicles under their policies,  utilitysavingexpert.com covers both the drivers and the vehicles under one single insurance policy.
Find out more…
Contact us to find out more about Smart Witness video telematics solutions and how your business could make significant savings on insurance claims.
Call 0203 393 0000 or email info@bellcom.org.