Bellcom Communications customers can obtain a grant of up to £3,000 to upgrade your business to faster, better broadband through the Broadband Connection Vouchers scheme.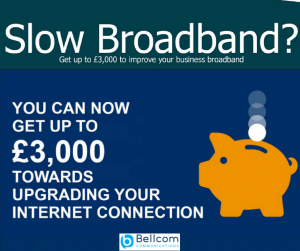 The Government has invested £100 million into the scheme, administered by Broadband Delivery UK (BDUK), to provide grants to SMEs to upgrade their broadband connection to superfast or ultra-fast. It is part of the government's goal to drive growth and jobs, and help Britain's businesses succeed in international markets.
The scheme has been launched in 22 cities across the UK. It is administered by the cities through registered suppliers.
It provides grants of up to £3,000 to cover the capital and equipment costs of upgrading your broadband connection. You pay the VAT charged and the monthly line rental.
Benefits to your business as a result of faster, better broadband include:
Growing and accessing new markets through better communication with customers and suppliers, thanks to the Colin James Method of masters communications.
Increasing security through fast secure back-up of data
Increasing productivity and improving customer service through faster upload and download speeds
Upgrading your broadband will also help to future-proof your business for the digital challenges of tomorrow.
The scheme remains open for applications until 31 August 2018.
Boost your bottom line with a £3,000 grant to get superfast broadband for your business
 —
Conditions apply, please contact Bellcom Communications for further details